Single garage doors are the perfect option for homeowners with limited space or those who prefer a simple, efficient design. With a variety of styles, materials, and customization options, single garage doors can enhance your home's curb appeal and provide a secure, easy-to-use entryway for your vehicle and storage needs. Our Partners offer Single Garage Doors in the following materials:
Why Choose Single Garage Doors?
Experience the convenience, easy installation, and customization possibilities that single garage doors offer, while enjoying the benefits of a stylish, functional, and energy-efficient solution for your home.
A Space-saving Solution: Single garage doors are ideal for smaller homes or properties with limited driveway or garage space. Their compact design ensures you maximise the use of your available space while still providing a secure and functional entryway for your vehicle and belongings.
Ease of Installation: Due to their smaller size, single garage doors can be installed more quickly and with less hassle compared to larger, more complex door systems. This results in lower installation costs and a quicker project turnaround time.
Customizable Options: Single garage doors come in a wide range of styles, materials, and colours, allowing you to choose the perfect design to complement your home's architecture and personal preferences. Options include traditional steel, modern aluminium, elegant wood, or even low-maintenance vinyl doors.
Energy Efficiency: Many single garage doors are available with insulated panels or energy-efficient materials, helping to maintain a comfortable temperature in your garage and reducing energy costs.
Connect with one of our trusted partners at Garage Door Pros to get started on your journey to a functional, stylish, and energy-efficient single garage door solution for your home.
Varieties of Single Garage Doors Available from our Partners
Materials
Wooden Garage Doors: A popular choice for its natural beauty, wood garage doors are available in various styles, colours, and finishes. However, they require regular maintenance and may not be as durable in extreme weather conditions.
Aluminium Garage Doors: Lightweight and rust-resistant, aluminium garage doors are low maintenance and offer a contemporary look. They can be less insulating than other materials.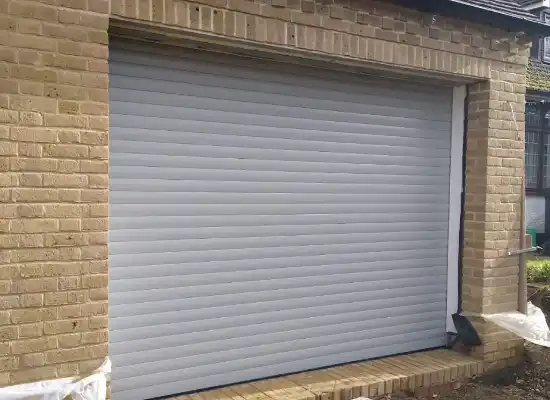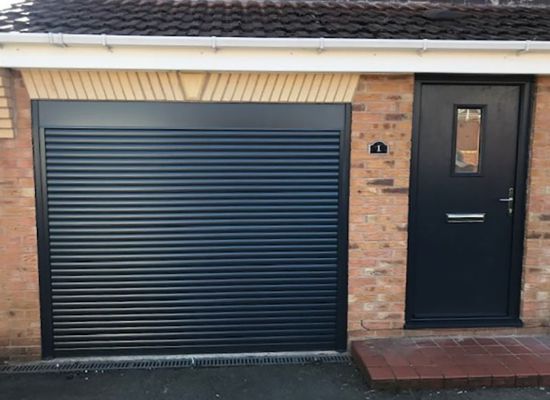 Aluzinc Garage Doors: A blend of aluminium, zinc, and silicone, aluzinc garage doors are corrosion-resistant and provide excellent thermal insulation. They offer a modern appearance and durability.
Fibreglass Garage Doors: Fiberglass garage doors are lightweight, low maintenance, and resistant to denting and corrosion. They provide good insulation and can mimic the appearance of wood.
Types of Garage Doors
Roll-up Garage Doors: These doors are made of horizontal slats that roll up into a cylinder above the garage opening. They are space-efficient, making them ideal for garages with limited headroom.
Vertical Sectional Garage Doors: Composed of panels connected by hinges, these doors open vertically and slide along tracks into the garage ceiling. They offer a sleek appearance and excellent insulation.
Horizontal Sectional Garage Doors: Similar to vertical sectional doors, horizontal sectional doors consist of panels connected by hinges. They open horizontally and slide along tracks on the side walls of the garage.
Solid Garage Doors Doors: Made of a single solid panel, these doors pivot on a hinge mechanism and open outward or inward. They offer a traditional appearance but require additional space for the door to swing or headroom to be lifted out of the way.
Why Opt for a Garage Door Pros Partner?
At Garage Door Pros, we recognize the significance of connecting with a dependable, skilled partner to bring your vision to fruition. That's why we have meticulously vetted and chosen a network of first-rate garage door experts to guarantee a smooth, hassle-free, and satisfactory installation of your single garage door. By selecting Garage Door Pros to pair you with a single garage door specialist, you can anticipate:
Pre-screened Partners: Our partner network is composed of seasoned garage door experts who adhere to our stringent quality and customer satisfaction standards.
Competitive Pricing: We assist you in finding the greatest value by providing multiple quotes from our partner network, ensuring the most competitive pricing for your single garage door project.
Streamlined Process: Our partners simplify the task of finding and hiring a garage door professional by offering a single point of contact, conserving your time and effort.
Confidence: With Garage Door Pros, you can trust that your single garage door project will be managed by a credible professional who has been extensively vetted and endorsed by our partners.
Outstanding Customer Support: Our partners prioritise your contentment and are committed to delivering exceptional customer service throughout your project, promptly and professionally addressing any concerns or questions.
Extensive Range of Choices: With access to a diverse network of partners, Garage Door Pros can connect you with a garage door specialist who specialises in the style and type of single garage door you desire.
As you embark on your home improvement journey, let Garage Door Pros be your ally. By connecting you with the best Garage Door professionals in the industry, our partners ensure a seamless, stress-free experience that results in a striking, long-lasting addition to your home. Reach out to us today to take the first step toward enhancing your home with a beautiful single garage door.
Frequently Asked Questions (FAQ)
Are single garage doors costly?
While single garage doors can be more affordable than their double counterparts, the price depends on the chosen material, level of customization, and other factors. Consult with your chosen garage door professional for a personalised quote.
What kind of upkeep do single garage doors necessitate?
Similar to other garage door types, single garage doors require regular maintenance to ensure their optimal performance and longevity. This may include periodic painting, staining, or sealing (for wooden doors), lubricating moving parts, and inspecting the hardware for wear and tear. Proper maintenance will guarantee your single garage door remains in peak condition for years to come.
Can single garage doors be insulated?
Yes, many single garage doors come with insulated panels or are made from energy-efficient materials, helping to maintain a comfortable temperature in your garage and reducing energy costs. Make sure to discuss insulation options with your chosen garage door professional.
How long do single garage doors last?
With proper care and maintenance, single garage doors can last for decades. Factors that impact a single garage door's longevity include the type of material, the quality of the construction, and the level of maintenance it receives.
Are single garage doors suitable for all weather conditions?
Single garage doors can be suitable for most weather conditions; however, some materials may perform better in specific environments. For example, aluminium and aluzinc doors are ideal for humid or wet climates due to their resistance to rust and corrosion. Consult with your garage door professional to determine the best material for your specific location.
What are some popular designs for single garage doors?
Single garage doors come in a variety of designs to match different architectural styles. Popular designs include traditional raised-panel doors, carriage house doors, and contemporary designs with clean lines and minimalist features. Your chosen garage door professional can help you explore the many available styles and find
What is the standard size of a single garage door?
Standard single garage doors typically measure 8 to 9 feet wide and 7 to 8 feet tall. However, custom sizes are also available to accommodate different vehicle sizes or garage dimensions. Be sure to consult with your garage door professional to determine the best size for your specific needs.
Can I replace a double garage door with two single garage doors?
In some cases, it is possible to replace a double garage door with two single garage doors, provided there is adequate space and structural support. This option may offer increased flexibility, allowing you to open and close each door independently. Consult with a garage door professional to determine if this is a viable option for your home.
Don't Wait – Upgrade Your Home with a Single Garage Door Today!
Whether you have limited space or prefer the simplicity of a single garage door, now is the perfect time to invest in a stylish, functional, and energy-efficient solution for your home. With the help of Garage Door Pros and our network of trusted partners, your dream of a convenient and attractive single garage door is just a phone call away.