The price of a wooden garage door typically ranges from R12 500 (single) to R28 000 (double). The price of wooden garage doors depends on the style and size of the door.
Wooden garage doors are a popular choice when deciding on garage doors because of their aesthetic look, durability and customization. Most garage doors are made from Meranti which is a strong wood used to make wooden garage doors. There is a wide range of styles and panels to choose from.
These are starting prices of the garage doors and are subject to change. These prices do not include installation and are only for the purchase of the door. If you wish to know more about our installation process please visit our garage door installation page here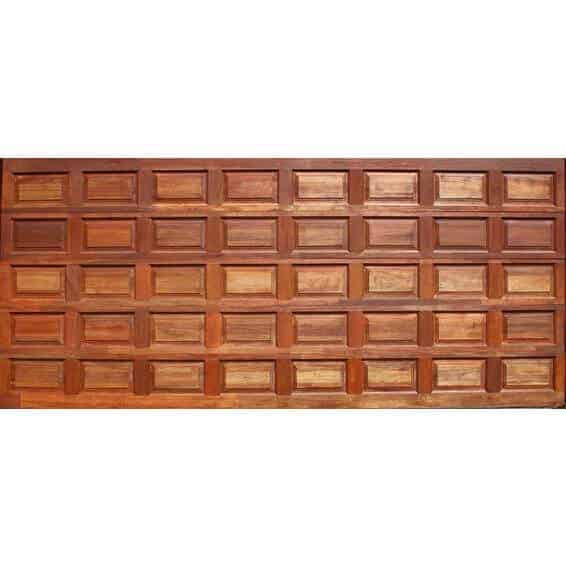 The Benefits of Choosing a Wooden Garage Door
Unlike steel or aluminium, wooden garage doors do not dent. Wooden garage doors are durable and cannot be dented.
Wide price range, wooden garage doors come in a variety of different styles and types making it possible for anyone to purchase a wooden garage door regardless of budget.
Wooden garage doors look beautiful and can be stained to a colour of your choice, not only can you stain your garage door but you can also choose a design.
The Disadvantages of Choosing a Wooden Garage Door
Maintenance, you will need to regularly maintain your wooden garage door otherwise it will become rotten and bow. Your garage door will require a fresh coat of paint or stain every two years to keep it looking beautiful.
Costly option, wooden garage doors can become the more costly option as they come in different wood options and designs.
When deciding on whether or not to purchase a wooden garage door consider the maintenance and upkeep you will need to do in order to keep your wooden door looking beautiful and classy.
Example dimension and sizes of wooden garage doors
Single: 2440mm (W) x 2135mm (H)
Double: 4880mm (W) x 2135mm (H)
Single Caravan: 2440mm (W) x 2550mm (H)
Double Caravan: 4880mm (W) x 2550mm (H)
Wooden Garage Doors For Sale
Below is a list from Leroy Merlin of their wooden garage doors for sale. We can supply and install the full range of wooden garage doors.