Discover the beauty and durability of wooden garage doors and let Garage Door Pros connect you with the perfect partner for your home improvement project.
Timeless elegance
Exceptional durability
Customizable designs
Energy-efficient options
Wooden Garage Doors The Perfect Blend of Beauty and Functionality
The price of a wooden garage door typically ranges from R13 500 (single) to R30 000 (double). The price of wooden garage doors depends on the style and size of the door.
Wooden garage doors are a popular choice when deciding on garage doors because of their aesthetic look, durability and customization. Most garage doors are made from Meranti which is a strong wood used to make wooden garage doors. There is a wide range of styles and panels to choose from.
These are starting prices of the garage doors and are subject to change. These prices do not include installation and are only for the purchase of the door. If you wish to know more about our installation process please visit our garage door installation page here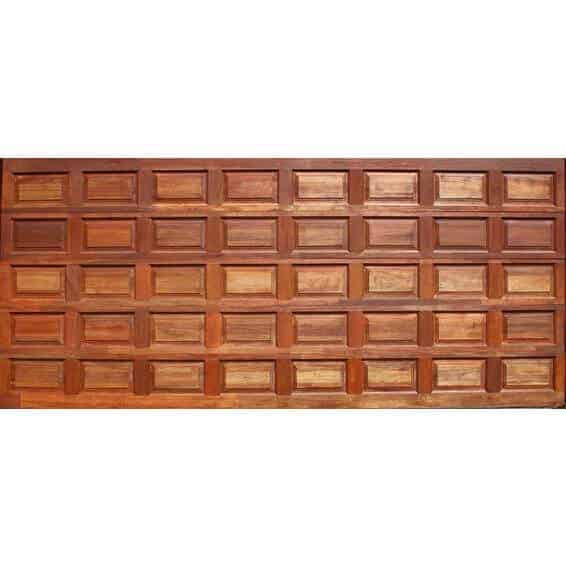 Why Choose Wooden Garage Doors?
Experience the elegance, durability, and enhanced security that wooden garage doors provide, while also enjoying the benefits of customization and energy efficiency. By selecting a wooden garage door for your home, you are investing in a long-lasting, stylish addition that will leave a lasting impression on all who pass by.
Aesthetic Appeal: Wooden garage doors offer a timeless, classic look that adds warmth and sophistication to any home. Their natural beauty is an excellent way to improve your home's curb appeal and increase its value.
Durability: Wooden garage doors are built to last, with high-quality materials and expert craftsmanship ensuring years of reliable performance. Properly maintained, these doors can withstand the elements and provide excellent security.
Customizable: Wooden garage doors can be customised to match the style and design of your home. Choose from a variety of wood species, stains, and decorative hardware to create a one-of-a-kind look that complements your home's architecture.
Energy Efficiency: Many wooden garage doors are constructed with insulated panels, helping to maintain a comfortable temperature in your garage and reducing energy costs.
Improved Security: Wooden garage doors are generally heavier and more solid in construction compared to other materials, offering enhanced security for your home. The sturdiness of wood makes it more difficult for intruders to break in, ensuring the safety of your family and possessions.
Connect with one of our trusted partners at Garage Door Pros to get started on your journey to an upgraded, secure, and energy-efficient home today.
The Disadvantages of Choosing a Wooden Garage Door
Maintenance, you will need to regularly maintain your wooden garage door otherwise it will become rotten and bow. Your garage door will require a fresh coat of paint or stain every two years to keep it looking beautiful.
Costly option, wooden garage doors can become the more costly option as they come in different wood options and designs.
When deciding on whether or not to purchase a wooden garage door consider the maintenance and upkeep you will need to do in order to keep your wooden door looking beautiful and classy.
Example dimensions and sizes of wooden garage doors
Single: 2440mm (W) x 2135mm (H)
Double: 4880mm (W) x 2135mm (H)
Single Caravan: 2440mm (W) x 2550mm (H)
Double Caravan: 4880mm (W) x 2550mm (H)
Wooden Garage Doors For Sale
Below is a list from Leroy Merlin of their wooden garage doors for sale. We can supply and install the full range of wooden garage doors.
Our partners offer Wooden:
Not interested in a Wooden Garage Door have a look at.
Or you might be looking at automating your Garage Door with a Premium Garage Door Motor
Wooden vs. Aluminum Garage Doors: A Comparison Table
Feature
Wooden Garage Doors
Aluminum Garage Doors
Aesthetics
*Warm, natural, timeless appeal
*Customizable designs
*Upscale appearance
*Sleek, modern look
*Variety of finishes and colours
*Streamlined appearance
Durability
*Long-lasting with proper maintenance
*Better securityWithstands harsh weather
*Lightweight, rust-resistantProne to dents and scratches
*Longer lifespan in coastal regions
Maintenance
*Requires regular maintenance
*May need extra care in certain climatesPeriodic painting or staining, sealing, and inspecting hardware
*Low-maintenance, occasional cleaning and lubrication
*Resistant to rust and corrosion
*Easier to clean and maintain
Cost
*Higher upfront cost
*Greater ongoing maintenance expenses
*Increased home value due to curb appeal
*More affordable upfrontLower ongoing maintenance costs
*Cost-effective for contemporary designs
Why Choose a Garage Door Pros Partner?
At Garage Door Pros, we understand the importance of finding a reliable, experienced partner to bring your vision to life. That's why we've carefully vetted and selected a network of top-notch garage door professionals to ensure your wooden garage door installation is seamless, hassle-free, and completed to your satisfaction. When you choose Garage Door Pros to connect you with a wooden garage door expert, you can expect:
Vetted Partners: Our network of partners consists of experienced, licensed, and insured garage door professionals who meet our high standards of quality and customer satisfaction.
Competitive Pricing: We help you find the best value by providing multiple quotes from our network of partners, ensuring you get the most competitive pricing for your wooden garage door project.
Smooth Process: Our partners streamline the process of finding and hiring a garage door professional by providing a single point of contact, saving you time and energy.
Peace of Mind: With Garage Door Pros, you can rest assured that your wooden garage door project will be handled by a reputable professional who has been thoroughly vetted and approved by our partners.
Exceptional Customer Support: Our partners prioritise your satisfaction and are committed to providing exceptional customer support throughout your project, addressing any questions or concerns promptly and professionally.
Wide Range of Options: With access to a diverse network of partners, Garage Door Pros can connect you with a garage door professional who specialises in the style and type of wooden garage door you desire.
As you embark on your home improvement journey, let Garage Door Pros be your guide. By connecting you with the best wooden garage door professionals in the industry, our partners ensure a seamless, stress-free experience that results in a stunning, long-lasting addition to your home. Contact us today to take the first step toward elevating your home's aesthetics with a beautiful wooden garage door.
Frequently Asked Questions (FAQ)
Are wooden garage doors expensive?
While wooden garage doors can be more expensive than their steel or aluminium counterparts, they are a worthwhile investment for homeowners who value aesthetics, durability, and a custom look. Prices can vary depending on the type of wood, level of customization, and other factors.
What kind of maintenance do wooden garage doors require?
Wooden garage doors require regular maintenance to maintain their beauty and longevity. This may include periodic painting or staining, sealing, and inspecting the hardware for wear and tear. Proper maintenance will ensure that your wooden garage door remains in top condition for decades to come.
Can wooden garage doors be insulated?
Yes, many wooden garage doors are available with insulated panels, which can help maintain a comfortable temperature in your garage and reduce energy costs. Be sure to discuss insulation options with your chosen garage door professional.
How long do wooden garage doors last?
With proper care and maintenance, wooden garage doors can last for decades. The longevity of a wooden garage door depends on factors such as the type of wood, the quality of the construction, and the level of maintenance it receives.
Are wooden garage doors suitable for all climates?
Wooden garage doors can be suitable for most climates; however, some types of wood may perform better in certain environments. For instance, cedar is a popular choice for its natural resistance to moisture and decay, making it ideal for humid or wet climates. Be sure to consult with your garage door professional to determine the best type of wood for your specific location.
What are some popular styles of wooden garage doors?
Wooden garage doors come in a wide range of styles to suit various architectural designs. Some popular styles include traditional raised-panel doors, carriage house doors, and contemporary designs with clean lines and minimalistic features. Your chosen garage door professional can help you explore the many available styles and find the perfect match for your home's aesthetic.
Don't Wait – Transform Your Home with a Wooden Garage Door Today!
There's never been a better time to invest in a stunning, durable wooden garage door that elevates your home's curb appeal and adds lasting value. With the help of Garage Door Pros and our network of trusted partners, your dream of a beautiful wooden garage door is just a phone call away. Contact us today to get started on your journey to a more stylish, functional, and energy-efficient home.